Soup: Bean n' Macaroni Hamburger Soup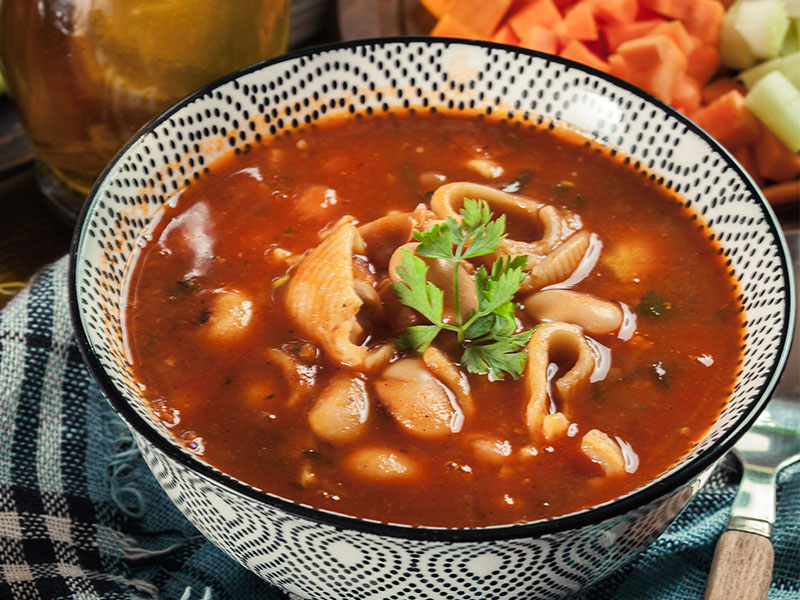 Servings: 12 cups
Preparation time: 5 minutes
Cooking time: 45 minutes
Ingredients
About 1-pound (454 grams) thawed ground meat, any kind
1 large onion, chopped
2 garlic cloves, minced or ½ teaspoon garlic powder
1 large can diced tomatoes (796 mL), preferably no salt added
1 small bag (340 grams) mini carrots
1-litre water
½ to 1 teaspoon dried herbs like basil, oregano, parsley
1 cup macaroni noodle, preferably whole wheat
1 medium can (398 mL) chili flavour kidney beans, drained
Directions for Preparation
In a large pot, cook the first three ingredients on medium heat.
Break the meat up as it cooks.
Once browned, add the rest of the ingredients except the noodles and the beans.
Bring up to a low boil.
Let cook for a few minutes before adding the noodles.
Once the noodles are almost ready, toss in the beans.
Cook for another few minutes then serve.
This soup recipe is a simple and hearty meal made with ground meat, veggies, and macaroni noodles in a tomato broth. If you are making this soup for another day, only half-cook the noodles. They will soften a lot more sitting in the broth overnight.
Return to Recipes List