Soup: Creamy Macaroni Chicken Soup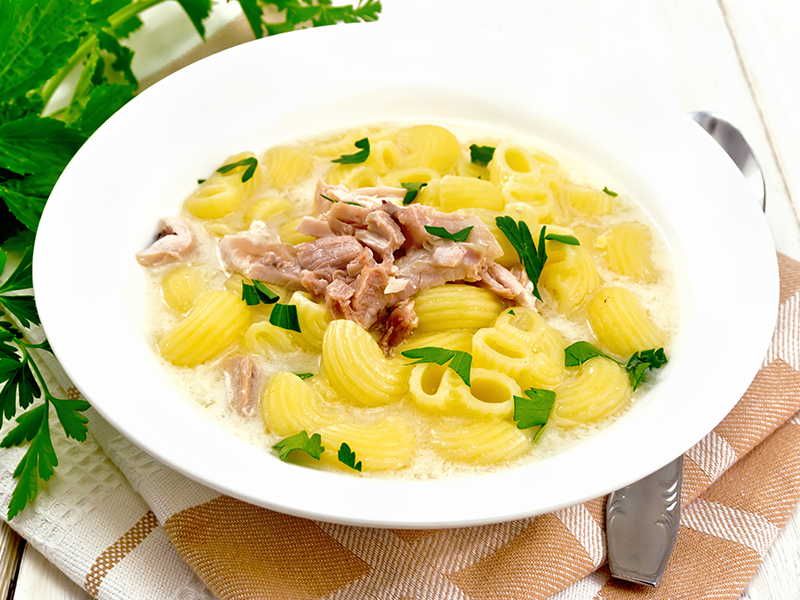 Servings: 8 servings
Preparation time: 30 minutes
Cooking time: 60 minutes
Ingredients
4 chicken thighs or drumsticks, skin removed
4 cups water
2 tablespoons vegetable oil
1 medium yellow onion, finely chopped
2 medium carrots, shredded
1 ½ cups chopped cabbage (optional)
5 cups water
1 ½ cups elbow macaroni noodles, preferably whole-wheat
3 tablespoons flour
1 can (354 mL) evaporated milk
Salt and pepper to taste
Directions for Preparation
In a medium pot, bring 4 cups of water to a boil.
Add the chicken. Boil the chicken in low to medium heat for 45 minutes. Set aside to cool.
Meanwhile, heat the oil in a large pot. Cook the onion, celery and carrot until softened.
If using cabbage, add it here plus the remaining 6 cups of water plus the stock from the boiled chicken pot.
Gently boil for 20 minutes.
Once the chicken is cool enough to touch, shred the meat using your hands.
Add the meat and the elbow macaroni to the pot. Cook just until the macaroni is slightly soft.
Place the flour in a medium-size bowl. Slowly stir in the milk until smooth. Add to the pot and gently boil until the soup thickens.
Add salt and pepper to your taste.
If you have leftovers, scoop out the macaroni noodles and store in a separate container from the rest of the soup to avoid soggy noodles the next day. This rich chicken noodle soup is a favourite with kids and adults alike. It is a true comfort food.
Return to Recipes List