Soup: Healthier Hamburger Soup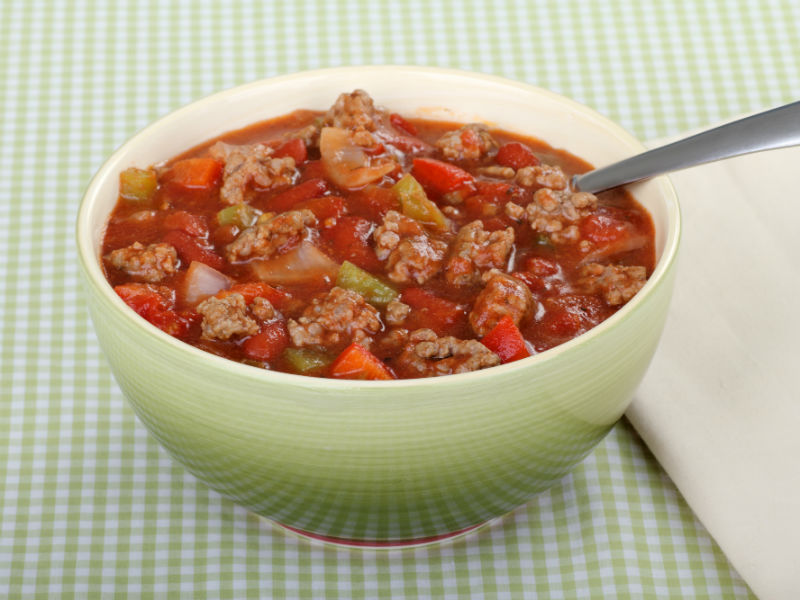 Servings: Twelve 1-cup servings
Preparation time: 15 minutes
Cooking time: 30-40 minutes
Ingredients
1-pound (454 g) lean ground beef
1 can (796 mL) diced tomatoes, no salt added preferred
1 can (284 mL) tomato soup
1 medium onion, chopped
2 medium carrots, finely chopped
2 stalks celery or 1 large green pepper, finely chopped
1 can (284 mL) sliced mushrooms, rinsed and drained
4 cups water or beef broth, no salt added preferred
¼ cup barley or ½ cup noodles, any type like macaroni
1 teaspoon dried herbs (oregano, basil, Italian seasoning or parsley)
Directions for Preparation
Brown meat in a large pot. Drain off the fat.
Add the rest of the ingredients to pot except if you are using noodles, set those aside.
Bring up to a boil. Reduce heat. Cover and simmer for 15 minutes.
If you are using noodles, toss them in after 15 minutes.
Cook another 15-20 minutes or until the vegetables and the noodles/barley are tender.
Stir occasionally while cooking.
Season with more spices if desired. Add extra water if soup becomes too thick.
Saturated fat (unhealthy fat) is reduced by draining the fat from the ground beef. Choosing low or no sodium canned goods lowers the salt in this recipe.
Return to Recipes List