Soup: Cream of Carrot Soup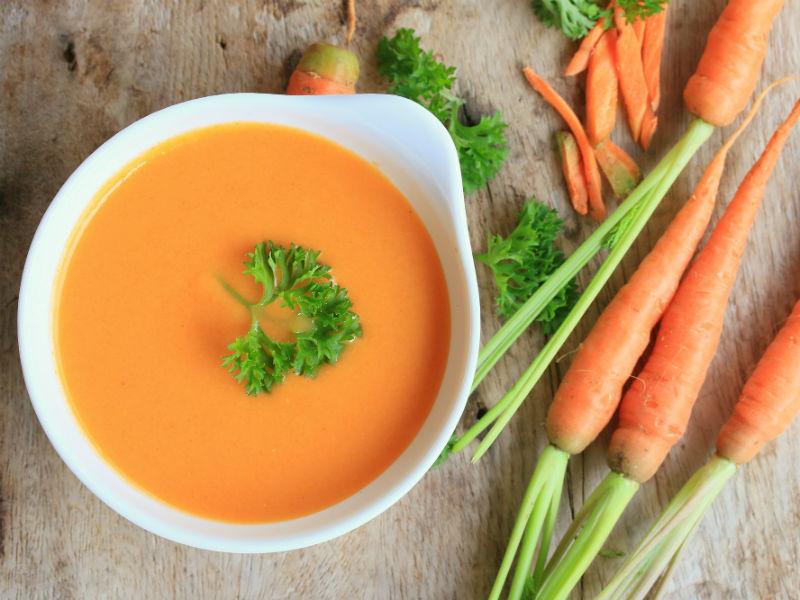 Servings: 8 cups
Preparation time: 10 minutes
Cooking time: 30 minutes
Ingredients
1 tablespoon vegetable oil
1 large onion, chopped
1 large garlic clove, chopped or ¼ teaspoon garlic powder
6 carrots, washed and chopped
3 apples, washed and chopped
4 cups water
2 teaspoons white or brown sugar
2 chicken or vegetable bouillon cubes or 2 teaspoons loose bouillon powder
1 can (354 ml) evaporated milk
Directions for Preparation
In a large pot, warm oil over medium heat. Add onion and garlic. Cook until onion has softened. Add the rest of the ingredients except the evaporated milk.
Cover and bring to a boil.
Reduce heat to a low boil. Stir occasionally, until carrots are tender, about 30 minutes.
Turn off the heat. Add the evaporated milk.
Use a hand blender to purée the soup until smooth right in the pot or transfer in small batches to purée in a standard blender. Be careful, the steam can be very hot.
Carrots have phytochemicals (healthy plant chemicals) that may help reduce the risk of developing cancer.
Return to Recipes List