Northern Moment Contest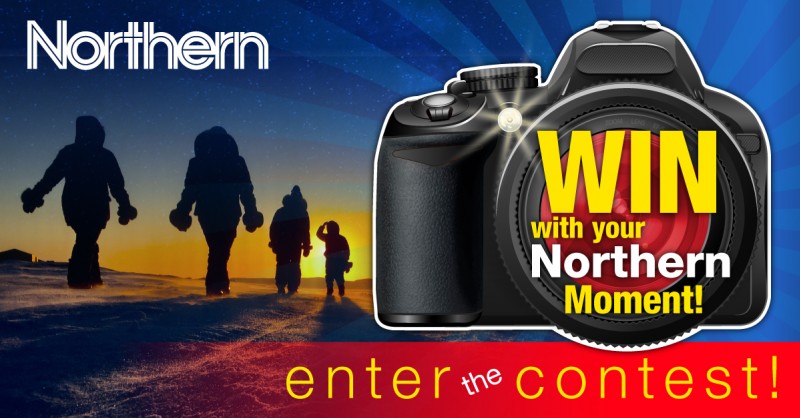 Contest runs from July 15, 2021 - August 15, 2021
Send us your best photos of life in the north for a chance to WIN 1 of 3 amazing gift card prizes and have your photo featured in our 2022 calendar.
Grand prize
$500 gift card
Second prize
$250 gift card
Third prize
$100 gift card
"WIN WITH YOUR NORTHERN MOMENT" CONTEST OFFICIAL
RULES AND REGULATIONS
This contest is intended for participation in Canada only and shall be construed and evaluated according to the laws of Canada. Residents of Quebec are excluded from this offer. Please do not proceed if you are not a legal resident of Canada at time of entry.
1. CONTEST PERIOD: Starting July 15, 2021 at 18:00 Central Standard Time (CST) and ending August 15, 2021 at 23:59 CST (the "Contest Period"). Submissions must be in by August 15, 2021 at 23:59 CST. The winner will be notified on September 1, 2021, and announced on the Northern/NorthMart Facebook Page. (www.facebook.com/northernstores)
2. ELIGIBILITY: To enter and be eligible to win, a person must be a resident of Canada, who has reached the age of majority in their province of residence, who has attended a Northern or NorthMart retail outlet during the contest period. The sponsor assumes no responsibility for lost, late, misdirected damaged illegible or incomplete entries or any printing errors in these official rules. Residents of Quebec are excluded from this contest offer. Persons in any of the following categories are NOT eligible to participate or win prizes in the Contest: (a) any person who, at any time on or before July 15, 2021, was or is a director, officer, employee, agent of The North West Company or any of its divisions, parent, subsidiaries or affiliated companies or service agencies, or independent contractors or vendors; and (b) individuals engaged in the development, production or distribution of materials for the Contest (collectively the "Contest Entities"). The sponsor assumes no responsibility for lost, late, misdirected damaged illegible or incomplete entries or any printing errors in these official rules.
3. HOW TO ENTER & PLAY: No purchase necessary. Fans will have until August 15, 2021 at 23:59 CST to submit their photo, no submissions will be accepted after August 15, 2021 at 23:59 CST. A team of judges from The North West Company head office in Winnipeg, Manitoba, Canada will choose the top ten finalists on August 24, 2021. Fans will be able to vote on the ten finalists from August 24, 2021 at 09:00 CST until August 31, 2021 at 23:59 CST. The top three entries with the most votes as of August 31, 2021 will be the winners. The final winners will be notified on September 1, 2021 and announced on the Facebook page. Only one entry per person will be entered.
4. PRIZES: There are three (3) prizes available to be won. Eligible entrants of the contest who complete the online entry form during the Contest Period will be eligible to win one (1) of three (3) prizes. The Grand Prize winner will receive a $500 gift card; 2nd place will receive a $250 gift card; and the 3rd place winner will receive a $100 gift card. Prize is non-transferable, not redeemable for cash or credit in whole or in part and must be accepted as awarded. Contest Sponsor reserves the right to substitute the prize or any component thereof for those of approximately the same value.
5. NOT INCLUDED IN PRIZE: The Grand Prize does not Include anything not explicitly set forth In the Grand Prize description above, including without limitation: additional ground or other transportation not expressly Included above, car rentals, personal and miscellaneous expenses of any kind for a Grand Prize Winner and/or his/her Guest. expenses for any kind of personal, medical, health, hospital and trip cancellation Insurance, airport or other taxes and fees, gratuities, excess baggage fees, Import charges, communication charges, meals, beverages (alcohol or otherwise), sightseeing, entrance, admission or other fees or any costs or expenses of or related to obtaining of necessary travel documents (Including, without limitation, any cost or costs of notarization).
6. HOW TO CLAIM YOUR PRIZE: Before being declared a winner and In order to be eligible to win a prize, the Potential Winner must first correctly answer, without mechanical aid or assistance, a time-limited mathematical skill-testing question to be administered by telephone. The Sponsor will attempt to contact the selected entrant for a period of three (3) consecutive business days from Monday to Friday between 8:30 AM CST and 4:30 PM CST. If the Sponsor is unable to contact or speak directly with a potential winner within the allotted time, then at the sole discretion of the sponsor, that potential winner may be disqualified, any prize they were entitled to may be forfeited and an alternate eligible entry may be selected from the remaining eligible entries. Prize will only be delivered to a verified winner.
By entering the contest, entrants have automatically consented to – The North West Company, and any of its Divisions or Banners – the right to the use of photo submission without further compensation, notification or permission in any publicity or advertising carried out by Sponsor or any related entities in any and all media now known or hereinafter developed without territorial or time limitation, except where prohibited by law.
CONDITIONS OF ENTRY:
7. Entrants (i) acknowledge compliance with these Official Rules including all eligibility requirements and, (ii) agree to be bound by the decisions of the Sponsor, made in their sole discretion, which shall be final and binding in all matters relating to this Contest. Entrants who have not complied with these Official Rules are subject to disqualification.
8. Entrants and/or winner assume liability for injuries caused, or claimed to be caused by participating in the Contest, by the acceptance, possession, or use of the awarded prize, including but not limited to claims/damages for personal injury, or property damage.
9. As a condition of entering, entrants agree (a) to release the Sponsor (NWC), and their affiliates, subsidiaries, retailers, sales representatives, distributors and each of their officers, directors, employees and agents, from any and all liability, loss or damage incurred with respect to the awarding, receipt, possession, and/or use or misuse of any prize or any travel related thereto, (b) to waive all rights to claim punitive, incidental, consequential, or any other damages, other than for actual out-of-pocket expenses; (c) all causes of action arising out of or connected with this Contest, or any prize awarded, shall be resolved individually, without resort to any form of class action; and (d) any and all claims, judgments, and awards shall be limited to actual out-of-pocket costs incurred, excluding attorneys' fees and court costs.(e) entrants consent to the retention and use of personal information for the purposes of offering various products and services that the entrant may be interested in from time to time.
DISCLOSURES:
10. Any attempt by an entrant or other individual, to deliberately undermine the legitimate operation of this Contest, including but not limited to any fraudulent claims, is a violation of criminal and civil laws. Should such an attempt be made, the Sponsor reserves the right to seek remedies and damages from any such individual, to the fullest extent permitted by law, including criminal prosecution. Participants engaging in any of the foregoing activities will be disqualified and will forfeit any prizes won.
11. Prizes pictured in point of sale, television and print advertising, promotional packaging, and other Contest materials are for illustrative purposes only. Actual prize(s) may vary from the prize(s) pictured. In the event of any conflict with any Contest details contained in these Official Rules and Contest details contained in point of sale, television and print, advertising, promotional packaging and other Contest media (Contest Materials), the details of the Contest set forth in these Official Rules shall prevail. The approximate retail value (ARV) of the prize as stated by the Sponsor in Contest Materials and/or in these Official Rules is subject to price fluctuations in the consumer marketplace.
If, at the time a prize is redeemed or awarded, the actual prevailing retail purchase price for the prize is less than the ARV stated by the Sponsor in Contest Materials, and/or in these Official Rules, the prize winner will not be entitled to a cheque or cash for the price difference.
12. This Contest is subject to all federal, provincial, and municipal laws.
13. In the event of any discrepancies between the English language rules and the non-English language rules, the English rules shall prevail.
14. All issues and questions concerning the construction, validity, interpretation and enforceability of these Official Rules, or the rights and obligations of entrant and Sponsor in connection with the Contest, shall be governed by, and construed in accordance with, the substantive laws of the Province of Manitoba without regard to Manitoba conflicts of law principles. All entrants consent to the jurisdiction and venue of the Province of Manitoba.
15. The invalidity or unenforceability of any provision of these Official Rules shall not affect the validity or enforceability of any other provision. In the event that any provision is determined to be invalid or otherwise unenforceable or illegal, these Official Rules shall otherwise remain in effect and shall be construed in accordance with their terms as if the invalid or illegal provision were not contained herein. In particular, Sponsor's employees are not authorized to waive, modify or amend any provision or provisions of these Official Rules in any manner whatsoever.
16. Personal information collected from entrants will be used by the Sponsor for the purpose of administering this Contest, and in the case of the winner, Sponsor shall have the use of his or her name and/or likeness for publicity. Sponsor will not sell, share or otherwise disclose personal information of entrants with third parties, other than to third parties engaged by Sponsor to fulfill the above purposes or as permitted or required by law.