Dessert: Coconut Peach Crisp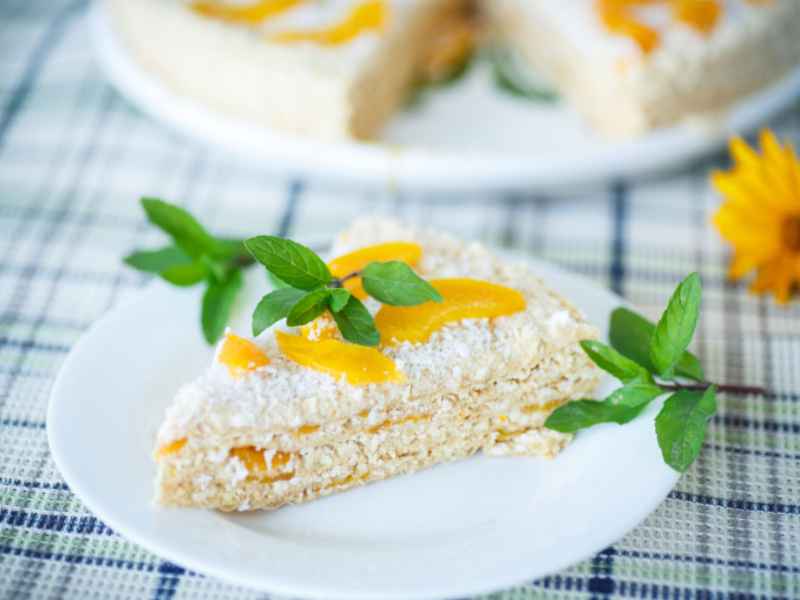 Servings: 12 servings
Preparation time: 10 minutes
Cooking time: 45 minutes
Ingredients
Take advantage of the season's sweet peaches or nectarines to make a large pan of dessert to share at the next gathering.
Filling
4 cups sliced peaches or nectarines(fresh or canned)
Topping
2 cups all-purpose flour
2 cups rolled oats
3/4 cup sugar, preferably brown
1 cup shredded coconut
1 tablespoon baking powder
1 cup vegetable oil or melted butter or melted non-hydrogenated margarine
Directions for Preparation
Filling
1. Preheat oven to 350°. Grease a deep baking dish that is about 11 inches by 7 inches.
2. Place the fruit at the bottom of the baking dish.
Topping
3. In a medium bowl, combine all the ingredients except the last one.
4. Pour in the last ingredient and stir until mixture looks like peas.
5. Sprinkle crumb topping evenly over the fruit.
6. Bake until the topping is golden brown, and the fruit is bubbling, about 45 minutes.
Serve with a big dollop of cold vanilla yogurt.
Return to Recipes List