Dessert: Homemade Fajitas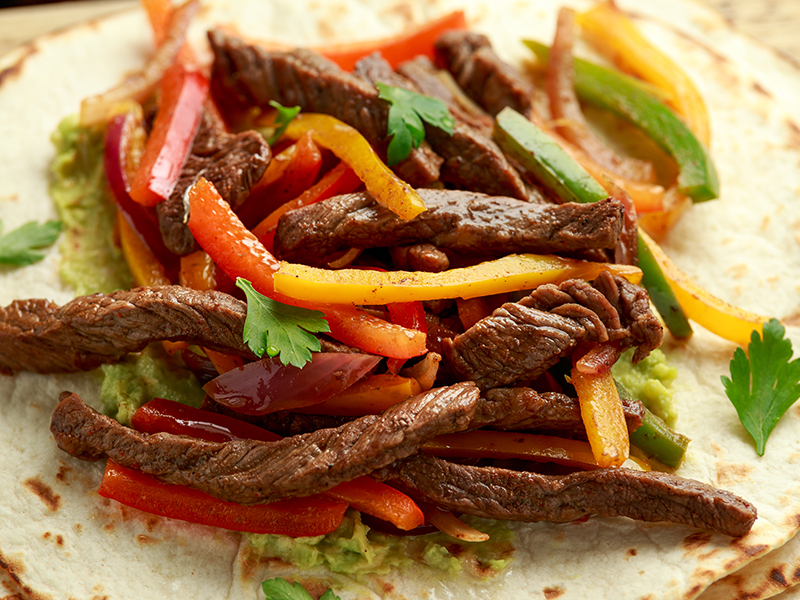 Servings: 6 fajitas
Preparation time: 15 minutes
Cooking time: 20 minutes
Ingredients
3 red or green peppers, cut into thin strips
1 large onion, sliced
1 tablespoon vegetable oil
¼ teaspoon black pepper
About 1 pound (454 grams) thin steak, cut into strips
½ packet (about 2 teaspoons) taco seasoning
1 tablespoon oil
2 cups lettuce, cut into shreds
¼ cup tomato salsa
½ cup cheddar cheese, shredded
6 medium-sized tortillas, preferably whole grain
Directions for Preparation
Put 1 tablespoon of oil, onion & peppers into a large frying pan. On medium heat, fry until soft. Set aside.
Sprinkle the sliced steak with the taco seasoning.
In the same frying pan, add another tablespoon of oil & fry the steak until cooked. No longer than 5 minutes.
In separate bowls, set out on the table the cooked vegetables, the lettuce, the salsa, the lettuce & the steak.
Let family members make their own fajitas by placing the filling on a tortilla, top with cheese, and fold or roll it.
Fajitas are soft-shelled, healthier version of hard-shelled tacos. Kids especially love fajitas because they can choose their own toppings & can eat them with their hands. This recipe can easily be doubled and you can switch the steak with 1 pound of ground meat. If using ground meat, cook well and add ¼ cup of water and the taco seasoning in the last five minutes of cooking.
Return to Recipes List