Main Course: Tri-Colored Roasted Vegetables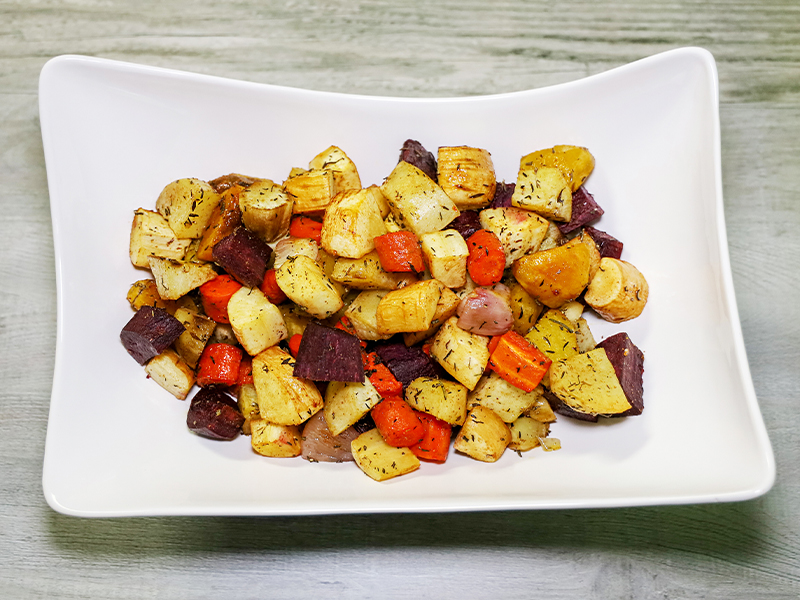 Ingredients
3 medium red potatoes, washed and sliced in half, then lengthwise about the thickness of your thumb
1 medium sweet potato or yam, washed and sliced in half, lengthwise (a little bit thicker than the potatoes)
4 medium carrots, washed and sliced into thick rounds
3 tablespoons vegetable oil
Dash of salt and pepper
Directions for Preparation
Preheat the oven to 400 F°.
In a large bowl, toss the cut vegetables with oil, salt and pepper.
Line one large or two small cooking sheets with aluminum foil or parchment paper.
Spread the vegetables over the cooking sheets.
Place in the oven and turn down to 350 F°. Bake for 30 minutes before stirring the vegetables. Bake for another 30 minutes.
During the holidays, it is easy to overindulge in rich foods and sweet desserts. Try to fill your dinner plate with vegetables and you will be less likely to fill up on some of these unhealthier choices. Roasting a batch of different types of veggies creates a side dish to please everyone's taste.
151 Calories (kcal), 5.4 g Fat, 27 mg Sodium, 3.2 g Fibre, 2g Protein per serving
Return to Recipes List