Main Course: Chili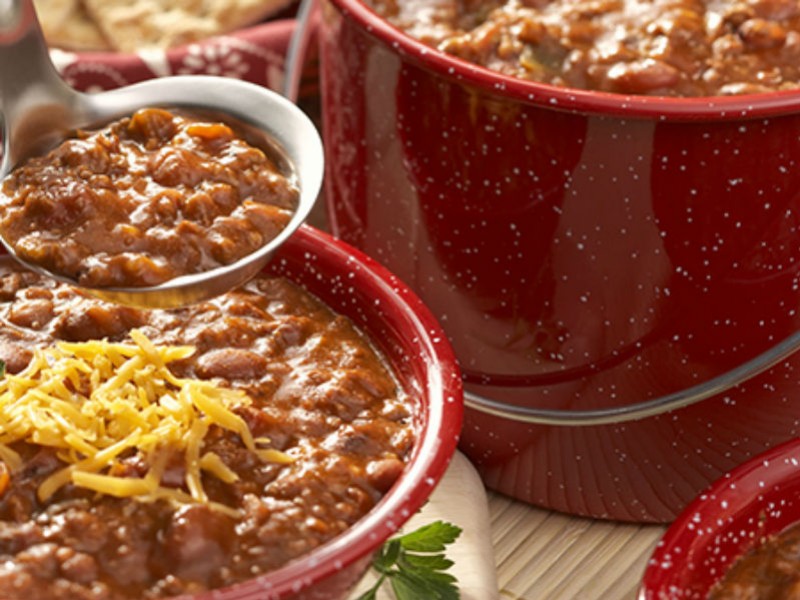 Ingredients
1/2 lb Best Value Lean Ground Beef
1 large onion, diced
3 stalks celery, diced
2 carrots, diced
1 green pepper, diced
2 tbsp chili powder
1 tsp garlic powder
1 tsp black pepper
1 small cube bouillon (or half a large cube)
1 can tomato paste (156ml)
2 cans Best Value Canned Tomatoes (796ml/each)
1 can kidney beans, drained and rinsed (approximately 2 cups of beans)
1 1/2 cups Best Value Frozen Corn
Directions for Preparation
Brown meat in a large pot on medium heat.
Add onion, celery, carrots, green pepper, chili powder, garlic, black pepper and bouillon.
Continue to cook until onions are translucent.
Add remaining ingredients and bring to a boil.
Reduce heat to low and simmer for at least ½ hour (or up to 2 hours).
To complete this meal, serve with a whole wheat bun and a glass of milk.
If you can't find canned kidney beans, try substituting with a can of baked beans in tomato sauce.
Nutritional values per serving:
Calories 179.9kcal, Fat 3.3g, Saturated Fat 1.1g, Trans-Fat 0.1g, Cholesterol 12.7mg, Sodium 581.3mg, Carbohydrate 29.6g, Fibre 6.5g, Sugar 8.7g, Protein 11.7g.
Return to Recipes List