Main Course: No Fuss Burritos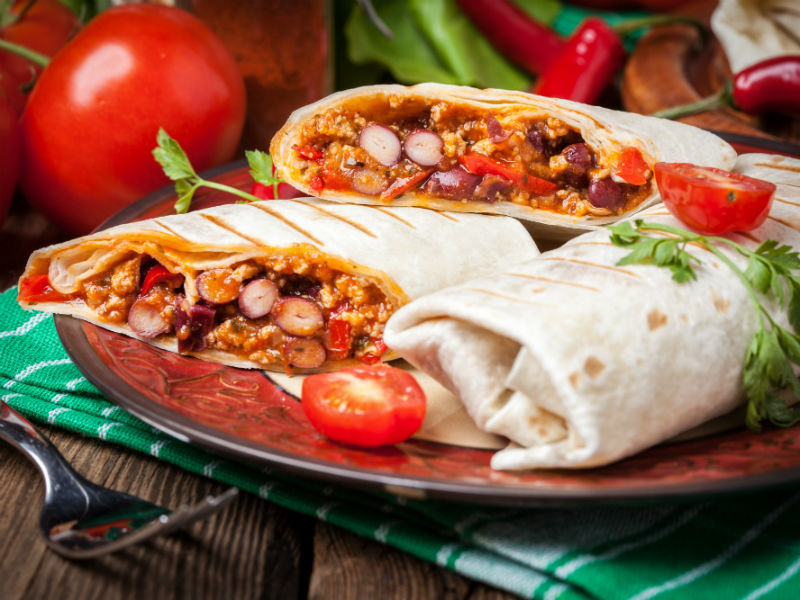 Ingredients
About 1 pound (454 grams) lean ground beef
1 burrito kit (contains 8 tortilla shells, seasoning mix and burrito sauce)
1 onion, chopped
1 green pepper, chopped
1 cup canned beans like kidney or black beans, rinsed then drained
1 cup shredded cheese, any kind
Directions for Preparation
On medium heat, cook the lean ground beef, onions and peppers in a large frying pan. Stir often, breaking up the beef into smaller pieces.
Cook until browned, at least 10 minutes then drain the excess grease.
Stir in 1 ¼ cups of water, the seasoning mix and the beans.
Cook on low-medium heat until the sauce thickens, about 10 minutes.
Remove the tortillas from the package, place on a plate and microwave for about 30-45 seconds until warm.
Spoon burrito filling into each burrito, top with shredded cheese and burrito sauce. Fold or roll up and serve.
Beans are filling and add heart healthy fibre to this recipe. Leftover beans can be placed in a plastic bag and frozen for use later.
Return to Recipes List