Main Course: Thai style Pineapple Fried Rice with Shrimp and Toasteds Nuts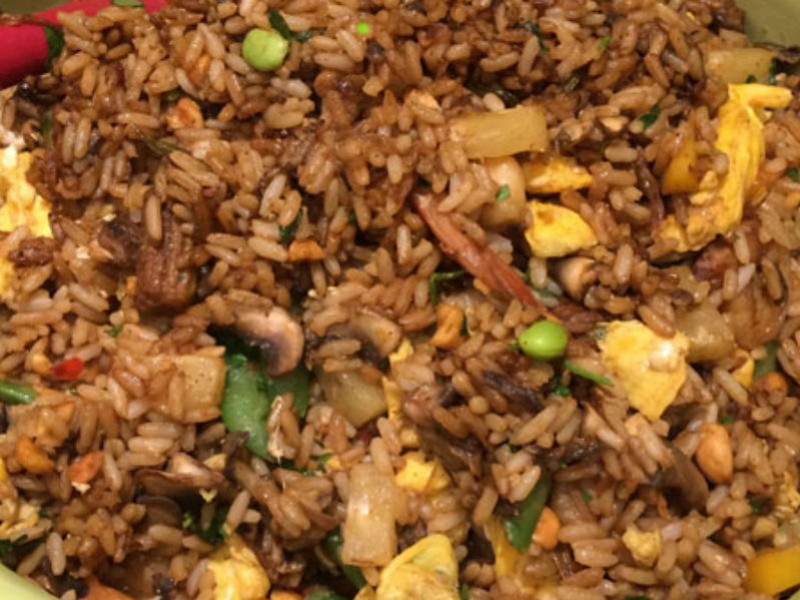 Ingredients
3 eggs, beaten
1 teaspoon vegetable oil
1/2 cup peanuts or cashews, preferably unsalted
1 tablespoon vegetable oil
4 green onions, sliced
3 garlic cloves, chopped
1 shallot or small white onion, chopped
*1/4 teaspoon chili flakes (optional)
1 cup pineapple pieces, fresh or canned (well drained)
3 eggs, beaten
1 cup frozen vegetable mix (peas, carrots), thawed and drained well
227 gram cooked shrimp (About 15 shrimp), thawed and drained of liquid
4 cups cooked, cold rice
*1/3 chopped fresh cilantro for garnish (optional)
Sauce:
2 tablespoons soya sauce, preferably low salt
1 tablespoon water
1 tablespoon curry paste, or 2 teaspoons dried curry powder
1 teaspoon brown sugar
Directions for Preparation
In a large frying pan on medium heat, toast the nuts. Stir constantly until golden brown. Set aside.
In the same pan, add 1 teaspoon of oil until sizzling. Add the eggs and quickly stir to make scrambled eggs. Set aside.
Heat the remaining oil until sizzling then add the green onion, garlic, shallot and chili flakes. Stir until golden brown.
Add the nuts, eggs, shrimp and sauce ingredients into the pan. Mix well. Heat the mixture until bubbling then stir in the rice.
Stir well until all the rice is coated. About 2-3 minutes.
Add the vegetables and pineapple.
Top with cilantro and serve
Day-old, cold cooked rice is better because it is drier. You can skip the shrimp in this recipe and double up on the eggs. We used the same large pan for every step to make cleanup quick and easy.
* 377 Calories (kcal), 13 g Fat, 431 mg Sodium, 49 g Carbohydrate, 3.5 g Fibre, 18.3 g Protein per serving
* Recipe provided and tested by Suzanne Hajto, Registered Dietitian
Return to Recipes List